We are going to show you How to install Sonos Ceiling Speakers in your home. Full Guide on Selecting Sonos equipment, type of wires required and type of ceiling speakers perfect for your home. Perfect placement guide so you know where to place speakers on your ceiling.
We install and fix Sonos on a daily basis. All our technician have obtained a full score on their Sonos test and we share all the resolutions. We have an escalation procedure within our organization to make sure that we can solve any Sonos problem you have. Many of the onsite calls are due to network conflict in your home/organizations network. However they are all different. Here are the most common questions people have about a Sonos Ceiling Speaker Install setup. We also have Deals to new and used Sonos mounts and Speakers.
Sonos Ceiling Speakers. 
Does Sonos have ceiling Speakers? The answer is NO. Sonos does not make ceiling ceiling speakers, but SONOS can definitely power your ceiling speakers easily with a component called a CONNECT:AMP. This is a great product. The new version of this product is the SONOS AMP which is more powerful. The difference is detailed here in another article. They work with most of the ceiling speakers in the market which are rated at 8ohms. Sonos is the most user friendly wireless/Wifi audio product available today. Instant music without the hassle of turning on anything.
What are the Benefits of Sonos powered Ceiling Speakers? Save space, zero clutter. Being installed into the ceiling means they take up no floor space at all. You also don't have to worry about finding space on a cabinet, shelf, or avoiding paintings and decorations on the wall. Aesthetic visuals. As the wires are concealed within the ceiling, not only are they nice to look at, there are no exposed wires or cables and therefore, no accidents. Yes, I'm talking to you, parents with little ones!
Where to Buy The New Sonos Amp In Toronto?
Bay Bloor Radio, Best Buy
Sonos Launched the Sonance in-Ceiling Speaker? Is it great? They sound as good as the other expensive, high-end speakers that we have tested. They are bigger than they look in the pictures, and have a very high build quality. They sound remarkably full-ranged with excellent highs, mid-range, and mid-bass. The Pair of Architectural Speakers by Sonance for Focused Listening are great pair for speakers. They are more expensive then they should be and here are alternative speakers that you can purchase. 
How many ceiling speakers can I connect to a Sonos CONNECT:AMP. You can connect upto 4 ceiling speakers to a CONNECT:AMP. The Connect Amp is not replaced by the SONOS AMP.
How to I connect wire ceiling speakers to Sonos CONNECT:AMP? Connect ceiling speakers to Sonos amplifier is easy and is explained in another page here https://leslievillegeek.com/sonos-in-ceiling-in-wall-speaker-installation/
Can I connect all my ceiling speakers to SONOS? Can I connect more that 4 speakers to one CONNECT:AMP? How to connect more that 4 speakers to the connect amp? The answer is you can. You will need to get a impedance matching speaker selector. Speaker selector are easily available and the connection process is simple. There are many speaker selectors available in the market , depending on the number of speakers you want to connect.
Can I play different music in each of the ceiling speakers that are connected to SONOS CONNECT AMP? Yes. You can. Each CONNECT:AMP can be a different zone. you can play separate music and control the volume separately in each zone.
Do I need a volume controller for my sonos ceiling speakers? NO. The volume controller is not required. Volume is controlled through the Sonos Controller app on your phone/tablet/computer. If you WANT to install a volume control between the CONNECT:AMP and Speakers this is totally possible.
Where should run my speaker wire to and where should I place my SONOS CONNECT:AMP? You can place your SONOS CONNECT AMP in a well ventilated area with a power outlet. Remember that this is also where all your speaker wires are going to be. It can be in a central location such as your utility room, but is not necessary. If you dont want to run plenty of speaker cable , You can have a space for a connect amp in each floor or near where your in-ceiling speakers are located.
What Ceiling Speakers should I get for my SONOS CONNECT AMP? Chose your speaker shape (most common circular ) 6-8inches, There are also square speakers available, speaker type (mono or single stereo), frequency (a bigger range of Hz results in better depth and balance of sound) and the impedance has to be 8ohms.
What kind of speaker wire should I use to power Sonos Ceiling speakers? What Gauge AWG should be the speaker wire for my sonos ceiling speakers?  For relatively short runs (less than 70 feet) to 8 ohm speakers, 16 gauge wire will usually do just fine. It's cost-effective and easy to work with. Thick wire (12 or 14 gauge) is recommended for long wire runs. If you're going to run speaker wire inside your walls or ceiling, you'll need UL-rated speaker wire labeled CL2 or CL3. If you want to install your outdoor speaker wire underground, you'll need wire rated for direct burial.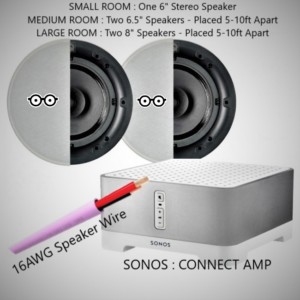 What Ceiling Speaker is for What Room. Does Room size Matter for size of ceiling speaker? 
Small Rooms Smaller spaces such as a bathroom or small kitchen do well with just one single stereo speaker. This type of speaker has a combined left and right channel for greater stereo separation, and being one speaker aesthetically suits smaller rooms.
Large rooms such as a living room or an open plan layout such as a kitchen/diner, are best suited to either a pair of larger sized speakers (8 inches) or 2 pairs of medium sized (6.5 inches). The latter 6-inch option is great for homeowners who are trying to evenly distribute their audio in a large space.
Very Large Rooms. If you are looking to occasionally use the space as a social gathering, dinner party etc. or are simply looking to achieve the best possible audio; we recommend installing a larger (8-inch) speaker. Being a physically larger driver, it can push out more air and thus provide deeper bass than a similar 6-inch model.
What ceiling speaker should I place in my Bathroom or Small enclosed kitchen? Smaller spaces such as a bathroom or small kitchen do well with just one single stereo speaker. This type of speaker has a combined left and right channel for greater stereo separation, and being one speaker aesthetically suits smaller rooms. Please make sure that you wire the stereo speakers with a two pairs of speaker wire. As the aforementioned rooms can produce a lot of steam, heat or moisture, it's important your speaker has resistance to these elements!  tip: You could also you play one  or sonos one for your bathroom since it is humidity resistant.
Can Sonos Powered ceiling speakers be used as surrounds to your SONOS playbar or SONOS playbase. or SONOS BEAM? 
It's important to note that if you have a Sonos PLAYBAR, PLAYBASE or BEAM in your living room already, it is possible to use ceiling speakers as your rear speakers. If you ceiling speakers, have angleable tweeters then angle them towards you to ensure the sound is pointing towards where you sit. HOWEVER if this configuration. BOTH THE CONNECT-AMP AND PLAYBAR/BASE/BEAM have to be wired to the network with an ethernet cable. Failing which the sound will not be synchronized.
In-wall speakers are also a great alternative to standalone rear speakers as they too sit flush, but instead in the wall. To configure either of these options correctly, the Connect:Amp and PLAYBAR must be wired directly to your router using an ethernet cable. Alternatively, the Connect:Amp can be connected directly to the ethernet port in the back of the PLAYBAR, whichever option is more convenient. Your Connect:Amp's settings must also be configured slightly differently.
Can I add a subwoofer to my ceiling speakers? Adding a subwoofer to your set up will do wonders for the depth and rumble of the sound. We recommend using the Sonos Sub – simply just plug the Sub into power and then "Add a Sub" to your chosen room in the Sonos app and follow the steps. It is also an extremely powerful Subwoofer for the price you pay. However, if you'd prefer to use a different Subwoofer, the Connect:Amp also contains a Sub Out for direct connection to your own Subwoofer.
The New Sonos AMP VS Old Sonos Amp