Concrete Pillar/ Column Mounted TV Installation
Starting at $329
Summary Of Installation:
• Supply a strapping pillar mount. This mount can be used on any pillar because there is no drilling required.
• Install & secure your TV mounting bracket on your pillar. We mount with straps and no drilling is required.
• Safely mount TV on the mounting bracket.
• Upon request our technicians can install a floating shelf on your TV for all devices such as cable box or video game console.
• Connect your cable box device to your TV for optimal performance.
• Clean up work debris.
• Leave your residence when you are completely satisfied with your Concrete Pillar/ Column Mounted TV Installation.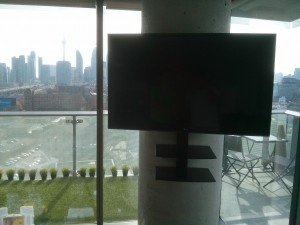 Here are some materials you might need before the tech(s) arrive or we can supply the materials upon request.
• HDMI Cables – Used to transfer audio and video between devices. Starts at: $15.
• Power Cables – Used to bring power supply closer to TV location. Starts at: $20.
We can conceal cables within a thin moulding tube for pillar mounts. This ensures all cables are hidden in a clean and sleek tube running along your pillar.
Utilizing the pillars within your home help save space and make a use for the large pillars that can otherwise be an eyesore.
To schedule a Concrete Pillar/ Column Mounted TV Installation. Call 647-477-2280 or fill out the form below.