Our Data Cabling services ensure your business success
LeslievilleGeek provide data cabling installation services in the city of Toronto and the surrounding areas.
We offer cabling services which includes Network Cabling, Structured Cabling, Cable Wiring and Voice Cabling. In addition, we offer cabling services for businesses that want to upgrade their network infrastructure or when they are relocating to a new location.
We have a certified team of cable expert technicians that work with all low voltage cabling like Data Network Cabling, Copper Cabling, Phone Cabling, Coax Cabling, Fiber Cabling, Cat5e, Cat6e, Cat6. Cat7. You can consult our geeks on your networking and IT issues.
As you are aware, data is an important mean of communication, and thus, an integral part of your organization. Therefore, it is vital to ensure that your data cabling has the correct network infrastructure and cabling structure in place. This support and optimizes services given the fact that your systems can wear out, your offer can get a remolding or even your business can expand. Our company focuses on cabling services in Toronto qualitatively through installing flexible data networks that support your business future expansion.
Additionally, we install data cabling infrastructure that last and allows high speed data to flow via your network gadgets reliably throughout the day, each day. Our experiences in different kinds of offices as well as domestic homes have opened our eyes on how to deliver quality cabling solutions.We offer cabling installation services to all organizations of all types and sizes in the Toronto area. We follow the industry protocols from our initial survey, to the design, to installation all the way to project management, thus providing a study and efficient cabling environment that last for decades. We offer a complete design as well as implementation incorporating wireless and wire connectivity, in addition to Cat5e and Cat6 cabling services. Even if it is upgrading your current network systems, consider it done within the shortest time possible.
We test all your sockets and can give you a report on each point so that you can be assured that they are broadcasting data at minimum one gigabit speed at each port, thus ensuring that every computer is trafficking data at its peak. Though the use of quality tools, we give the best results.
Our clients will tell you that we are the best in data communication because we offer network cabling installations services of the highest quality at an affordable price all over Toronto. Our success comes from the emphasis we put when installing cables as we do it according to our clients needs and take our time when formulating a plan so that we do not leave anything out.
It doesn't matter whether you are relocating to a new office, or upgrading your data cable, you need to hire the right data cabling installation services company in Toronto.
Structured Wiring Service
Leslievillegeek offers Structured Wiring services for commercial buildings in Toronto GTA. Specializing in Data Cabling & Termination – Cat5e, Cat6, Coax wiring, termination, patch panel installation & Mesh WiFi setup.
We strictly use fire-rated cables such as FT4 CMR (Riser) or FT6 CMP (Plenum) that meets building codes for in-wall, in-ceiling & plenum spaces. We can also terminate your existing telecommunication wires or the cables that we run and test each cable. We also label them for easy identification, connect them to your network & ensure everything is working as expected. We have the industry's best tools to trace, identify and test all types of cables to get the job done quick & properly.
Data Cable Wiring Service
Pre-wiring cables during construction or renovation is the best time to run the wires to save time & labour costs, especially for residential. Because if you try to run cables after the construction is already finished, you would have to cut open the wall and ceiling to run cables afterwards making damages to the drywall. For commercial buildings, it's not as crucial if you have tile / drop-ceilings but if ceiling is going to be finished with drywall, then it is highly suggested to pre-wire cables to save cost on extra labour.
You might already have network cables that are pre-wired by the builder but not terminated at the ends. And a lot of times, if it's pre-wired by the builder, those cables are usually not labeled to know where each cable is running to. We have the tools to identify each cable and we can terminate them with either keystone jacks or patch panel and label them for you. We can install patch panel in the central area where all the network wires are running to and install Cat5e or Cat6 Jack wall plate in each room.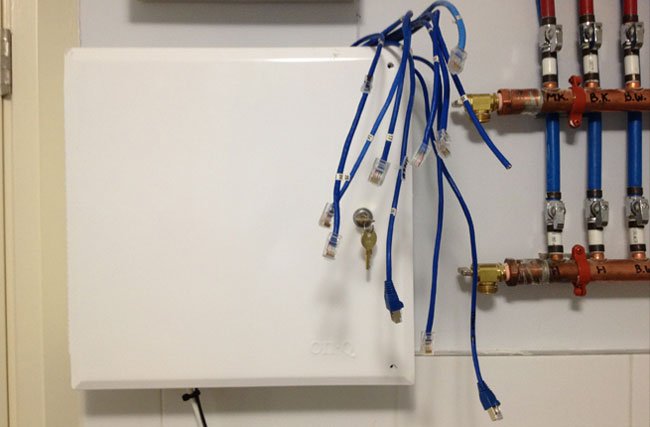 Crimping RJ45 Jack Connectors
We can terminate the Cat5e or Cat6 cable ends by crimping with RJ45 connectors to either T568A or T568B standards & test them for you.
After terminating the network wires, we can connect all the wires to your switch and/or router and make sure your network is up and running.
Patch Panel Installation Service
Patch panel comes in variety of shapes and sizes but one thing they have in common is that they're all made for 19″ U Rack installation (except for the mini patch panel). And there are several different types of patch panel racks available. Generally, the most common ones are: Wall mountable rack (horizontal & vertical types), patch panel wall mount cabinet, floor stading tower-type relay racks & floor standing server cabinet. For smaller scale of wiring, you could use mini patch panel or surface mount box instead of using a full size 19″ patch panel & rack.
Crimping RJ45 Jack Connectors
Horizontal rack mounts are available in fixed depths & adjustable depths. What you'll need depends on how much space is required from front to back based on the size of the rack mountable switch or other rack mountable devices. We can supply & install wall mountable horizontal racks for you. They are available in 1U, 2U, 4U, 8U & 12U at this time.
Crimping RJ45 Jack Connectors
Vertical rack mounts are ideal in tight spaces where Horizontal rack mount will protrude out too far from the wall. Since vertical racks are open in the bottom, you don't need to worry about how much space your switch takes up depth-wise. We can supply & install wall mountable vertical racks for you. These are available in 2U, 4U & 6U at this time.
Server Cabinet Installation
Network & Server cabinets are mainly used in larger scale commercial applications. They are available in different depths and widths depending on your space requirements to a certain degree. And they are also available with see-through glass/plastic doors or with perforated front and back for ventilation. We can supply & install these cabinets for you.
Mini Patch Panel Installation
Mini patch panels are ideal for connections of 12 or less cables and does not require a rack mount as it comes with its own mount. This is usually installed in a small scale business or a home. Mini patch panels are also very affordable and takes very little space wherever it needs to be installed. We can supply & install mini patch panels for you.
Data Jack Installation – Cat5e | Cat6 | RJ45
After installing the Cat5e or Cat6 keystone jack, we can label them on the wall plate & at the patch panel location for easy identification.
We can also install different colored Cat5e or Cat6 keystone jacks and install matching keystone jacks by the patch panel for easy identification.
Multi-Gang Custom Wall Plate
We can customize your wall plate with not only RJ45 ethenet jacks but also with other keystone jacks such as HDMI, coax, phone line & etc…
We can install surface mount jacks against solid walls such as concrete or other solid wall types where cables can't come out through the wall.
Mesh Wifi Network Installation Service
We can supply & help you setup a mesh wifi network in your home or business. We will strategically place the mesh points throughout your home or business to create the best mesh network possible whether hard-wired or wireless. Nowadays, almost every electronic device relies on strong WiFi connectivity to work at its best. Stay up to date with the latest Technology!
Traditional wireless router's WiFi signal is usually only good for up to 1500 square foot coverage. If you live in a house bigger than that, chances are, you probably have weak or dead WiFi spots in your home. Before the mesh WiFi systems were available, many people resorted to adding access points or range extenders to improve the WiFi signal but it can be such a hassle having to change WiFi SSID manually jumping from router to access point or vice-versa. It just wasn't really convenient at all for most people.
Mesh WiFi systems are designed to work with at least 2 or more mesh WiFi points to create one large WiFi network with single SSID. And you can keep on expanding your WiFi coverage area by adding more mesh points if necessary. Mesh WiFi network works best when mesh points overlap each others signal. The mesh router & mesh WiFi points (satellites) communicate with each other to give you the strongest signal depending on where you're located and where the closest mesh point is broadcasting signal from.
Ubiquiti offers specialty network products for Home & Business. We can supply Ubiquiti mesh system that fit your needs and install it in your home or business.