MOUNTING A GRAB BAR ON WALL WITHOUT STUDS
Mounting a Grab bar on drywall, tiles, granite, marble, fiberglass can be difficult. With you have to deal with there surfaces studs are not easily discover-able, The best stud finder in world might not be able to find studs. In some situations, the way you want to place your grab bar or towel hanger may not line up with the studs. Good news is there are save and strong methods that can be used to solve these problems.
Using toggle anchors and the supplied 1/2 diamond drill bit you are able to mount a grab bar or a TV on any tile/marble/granite surface.  If you dont have studs available, you could use these
We install plenty of these and we recommend the Condomounts Drywall Mounting Kit which comes with 200lbs drywall anchors, 1/2″ diamond drill bit, 1/4-20 machine screws and washers. Below are pictures taken from the internet which explains best how to do it.
Video which coming soon will be posted below.
Step 1.  Position grab Bar and mark the hole/holes for anchor.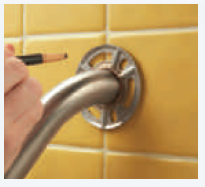 Step 2. Drill Hole on Tile. Hold the drill TIGHT in position and press gently on tile surface to create a groove then slowly extend the groove to a hole.
Step 3. Insert Toggle bolt
Step 4. Insert screws and tighten.
Video To Be uploaded soon.
Finding a Stud, adapting holes to your wall mount and using hollow wall anchors. The best Stud finder.
You found the perfect spot to mount a grab bar in your home. You've read all of our tips on using a stud finder, and are ready to go. But after 20 minutes of scanning for studs, you can't find any, or the results are inconsistent, or they don't line up with the holes on your wall mount. There are a number of solutions that don't require much, if any, extra work to fix your little problem.
Take off covers: If you can't locate the studs with a stud finder, locate an outlet on the wall (or any other fixture, like a cold air return). All outlets are attached to studs, unless they were added after the wall was up (not common). By taking off the wall plate, you can stick a thin tool into the gap between the side of the electrical box and the drywall, and then feel which side the stud is on. From there, measure over 16 inches and you should find another stud. Keep going 16 inches at a time until you are in the area where you want to mount the TV. Then use a small tool to poke a hole in the wall to see if a stud is actually there.
Use a wall mounting kit: If there simply aren't any studs where you want to mount the grab bar, then you need to use some sort of hollow wall anchor. These can be extremely strong and are rated to hold upto 265lbs on 1/2 drywall. The quarter-inch Snaptoggle is hands down the best hollow wall anchor on the market. Mounting a Grab Bar on drywall or plaster or even plaster and lath without attaching to a stud can be a very safe and reliable solution IF you know the limits of the wall and the toggles. As a professional TV installer, I've used toggles many times and never had a TV fall off the wall. In the end, if you aren't comfortable performing the install, consider hiring a professional.
This new 200lbs Drywall mounting Kit by Condomounts comes with A diamond saw to make holes on marble, most types of tiles, granite, fibreglass to insert the 200lbs anchor. This kit comes with 1/4 screws and hollow wall anchors meaning all you need is the grab bar and this kit.
Video on How to mount a Grab Bar on the wall without studs
How to Mount TV on ceramic Tile wall?