Cord-cutting options may get the most attention these days, but there are a growing number of alternatives in Ontario.
It's time to kill your cable box and cut the cord, freeing yourself up for all the better alternatives. For decades, cable television was the best way to get quality shows geared toward specialized audiences.
Today, that's what streaming services do, while cable is more like a lumbering dinosaur, slowly laying waste to both consumers' wallets and their sense of good taste.
Cable TV still has some great shows, but you no longer need to pay through the nose to get them — not when you can cut the cord.
Quick Tips
If you're currently on the phone canceling your cable subscription, or in the store to pick up cord-cutting gear, here are the bare-bones necessities you need to consider. The rest of the article goes into more detail about each point:
Invest in an HD antenna. The best TV antenna when pointed towards CN tower will let you watch all of around 20 channels live, in high definition, with no cost beyond the antenna itself. Living on the Danforth we get about 20 stations from the USA and CN Tower. Installation of an indoor antenna is easier but will get you around 4-10 channels.
Pick the best streaming device for your needs. Every streaming device has pros and cons.  Consider whether you need 4K resolution, definitely get one with a remote control and can be controlled by Google Assistant or Alexa. (We will recommend the new Google TV.) Since it can be control with voice. Voice control is the future.
Check your smart TV. Most smart TVs offer dozens of streaming services, so you may not need any additional hardware at all. We really like to Sony Smart TVs which have the android TV built in. Most of the other popular brands are all good.
Subscribe to the streaming services. Netflix and Amazon Video provide vast libraries of classic movies and TV, as well as lots of original content.  For sports there is sportsnet ($21-$28 Per month), TSN ($17-$20).All in Canadian dollars. Below is a comparison of the cost.
Sportsnet https://secure.snnow.ca/pricing
TSN
Find a way to stream your own content. You can do it right from your phone or computer. Plex is the one of the best programs for the job, and most of its features are free
Cost comparison when Cutting the cord if you are using Bell Fibe TV with 4 cable boxes versus getting all the streaming services(TSN, Sportsnet, Disney and Crave with HBO). You save about $60-70 per month. Which can be around $700-$900 per year. 
Cost of Sportsnet Subscribed monthly when you cut cable and use streaming services.
The sportsnet subscription allows you to use it on any device.
Crave Subscription cost without HBO. With HBO it is double this cost. 
Cost to subscribe to TSN per month if you cut the cord and start watching sports on your smart TV, google tv, apple tv or on your cell phone on the go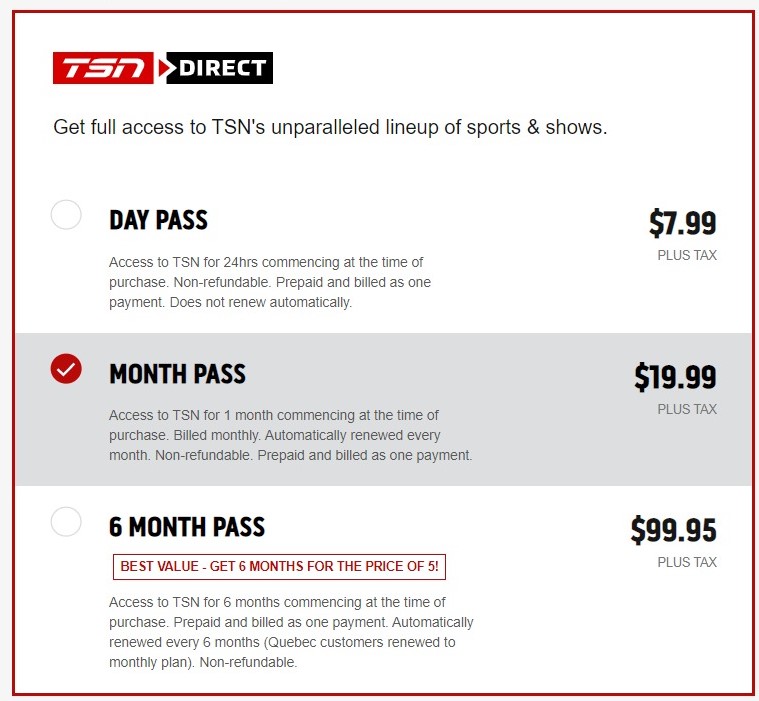 The Streaming Device I highly like is the New Google TV launched Mid October 2020.
At its core, the new Chromecast with Google TV is an attempt to simplify streaming. Rather than just presenting you with an app launcher for streaming services, the $50 streaming dongle tries to aggregate each service's movies and TV shows into one easy-to-use menu.
Beyond that slick veneer, you'll also find lots of powerful features to make the most of your TV viewing. Below are some of them
Google Assistant – Voice control is here. We have to use it.
Google has finally brought its full search skills to bear on the new Chromecast. Hold the black Google Assistant button on the remote, and you can search for titles, actors, directors, or genres. If you have a Sonos Beam or Sonos One you can intergrade the voice controls. With some streaming services—including Netflix,  Disney+, TSN, Sportscentre and CBC Gem—you can even launch specific movies and shows directly, and you can tune to specific live channels by voice with YouTube TV.
If you're unsure what to ask Google, just tap the Assistant button on the remote instead of holding it, or scroll over to the Search tab, where you'll see suggested voice commands and genres to browse.
Install apps with ease
When you want to install a new app on Chromecast with Google TV, you can easily search for it by heading to the "Apps" tab and scrolling down to "Search for apps." Once you see the keyboard pop up, hold the remote's black Google Assistant button to search by voice.
If you're on a computer, you can also install apps remotely through the Google Play Store website. Just hit the green "Install" button for any app, and as long as it's supported on TVs, you should be able to choose your Chromecast from the device list.
Use hands-free voice controls
For whose who have a Google Home or Nest smart speaker within earshot, you can ask it to play videos from certain apps. Try saying, "Hey Google, watch The Last Dance on Netflix," or "Hey Google, watch The Mandalorian on Disney plus," and the Chromecast will automatically open the app and start playing the video. This also works for tuning to live channels in YouTube TV or Sling TV.
If you're having trouble with voice commands, try including the name of the Chromecast in your request. You can also open the Google Home app on your phone, select your speaker, hit the Gear icon, and select "Default TV." From here you can choose your Chromecast to play in response to voice commands.
Set up multi-room audio
The Chromecast with Google TV can form a whole-home audio system with other Chromecasts, Google Home speakers, and Nest Audio speakers, so that all your music plays in sync across multiple speakers. To set this up, open the Google Home app on your phone, select your Chromecast, hit the Gear icon, then select "Group." You'll be able to create a new speaker group or add the Chromecast to an existing group from here.
Use your phone as the remote
True to its name, Chromecast with Google TV can send media to your television from supported apps. Just press the cast icon in apps like Netflix, Hulu, and YouTube, then select your Chromecast from the device list to start streaming.
If your remote's out of reach, you can also install the Android TV Remote Control app on Android or iOS. This provides a directional pad and navigation buttons for controlling the Chromecast from your phone, along with an on-screen keyboard for entering text.