Complete Sonos System Design & Installation
Please Contact Us For A Quote
Summary Of Service:
• Our certified experts visit your space to help determine your ideal complete Sonos system.
• We provide a quote to provide all of the Sonos equipment and to install the equipment.
• Once materials arrive we return to your space for installation of the Sonos system.
• Our audio experts will hook up your in ceiling or in wall speakers to pre-existing speaker wire.
• If you do not have pre-existing speaker wire run throughout your home or commercial space, our experts can help provide you a total solution in your house or commercial space.
• Connect and set-up your in-ceiling or in-wall speakers to your Sonos amp.
• Configure the new Sonos system and give a tutorial on how to use the system.
• Clean up work debris.
• Leave your residence when you are completely satisfied with your Complete Sonos System Design & Installation.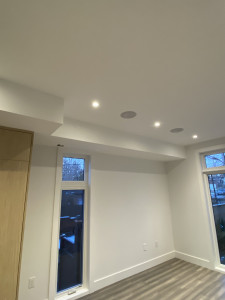 Here are some materials you will be quoted on after our tech(s) arrive for the on-site estimate.
• 16 Gauge Speaker Wire – Used to transfer audio and power between speaker and amp. Starts at: $0.40 a foot.
• Sonos Amp – Supplies power and audio to the in-ceiling/ in-wall speakers. Contact for price.
• In-ceiling speaker or in-wall speakers. Contact for price.
A Complete Sonos System is a flawless, seamless system. It allows you to listen to your favourite music from anywhere in your house. You use your phone to control the entire system with your favourite streaming services such as: Apple Music, Spotify, Amazon Music, Audible, YouTube Music, and many more. Sonos works with both Amazon Alexa and the Google Assistant for hands-free control on WiFi.
Our technicians will help set-up the different zones within your home, each of these zones are independent from each. This means each zone could be playing its own independent song, an example of zones could be: "kitchen", "dining room", "living room", "master bedroom" etc… Heighten your audio listening experience with a Complete Sonos System Installation.
To schedule a Sonos In-Ceiling & In-Wall Speaker Installation. Call 647-477-2280 or fill out the form below.